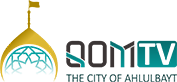 This session:
- A secret beyond two people
- Who to share secret with?
- Disclosure of secrets
- A secret is like a trust
- Can I share someone's secret?
- 3 Qualities of a believer
- Disclosing secret is a sin
Hujjatul Islam Haq Panah is a Howza teacher in Qom, Iran.