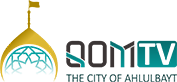 Sleeping Etiquettes 7 | Islamic Etiquettes (Adaab) Series
This session:
- Sleeping too much
- Effects of over-sleeping
- What is appropriate sleep?
- Ill-advised times for sleep
- Sleeping in the state of Janabat
- Ghusl or Tayammum?
Hujjatul Islam Haq Panah is a Howza teacher in Qom, Iran.