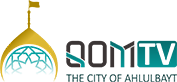 What is the simplest way to love Allah?
What does the late Ayatollah Mohammad-Taqi Bahjat say to the kings of the world, past and present?
Have you ever thought about the countless blessings you have in your life?
Finally, do you love the blessings or the One who has gifted them to you?
It's time to fall in love with Allah.
The late Ayatollah Misbah-Yazdi (R) provides us with a short, but profound lesson on the basics of loving Allah.
#Akhlaq #Love #Allah #Concepts #Beliefs #Salvation