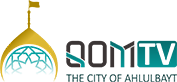 What is the effect of the first level of divine nurturing?
Why is it said that a person will flee the people, when on the other hand being with people isn't necessarily condemned?
Is socializing a need for human beings and if so, why and for what purpose?
Can social gatherings turn into a source of evil, and if so, how?
What kind of a quality in a person, would make another person flee from them?
And finally, what is the connection between "Socializing And The Road Towards Perdition"?
The late Ayatollah Misbah-Yazdi (R) provides us with a short, but profound lesson on the basics of loving Allah.
#Akhlaq #Love #Allah #Concepts #Beliefs #Salvation