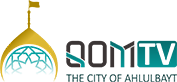 What should we do in order to create a desire for the virtue of loving Allah in our hearts?
And what is the best way to obtain the knowledge and the awareness of what the virtue of loving Allah truly is?
Finally, what is it that Allah, the Mighty, the Exalted, will say to the people of Heaven who have everything at their disposal?
The late Ayatollah Misbah-Yazdi (R) provides us with a short, but profound lesson on the basics of loving Allah.
#Akhlaq #Love #Allah #Concepts #Beliefs #Salvation