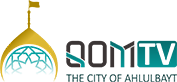 What does Allah endow a human being with when they become a believer, a follower, and ultimately, a lover of Allah?
What are these three gifts which Allah says He gives to his special servants?
Finally, can there be a gift which is greater than all the heavens, and the earth, and all that is between them?
The late Ayatollah Misbah-Yazdi (R) provides us with a short, but profound lesson on the basics of loving Allah.
#Akhlaq #Love #Allah #Concepts #Beliefs #Salvation