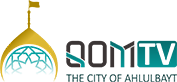 Why is it that when an individual has more love for the Ahl al-Bayt (A), one tends to encounter more trials and tribulations?
What is a divine tradition when it comes to trials and tribulations?
Why does Allah test His servants?
And ultimately, where should a person reach when it comes to passing divine tests; something we see in the companions of Imam Husayn (A)?
The late Ayatollah Misbah-Yazdi (R) provides us with a short, but profound lesson on the basics of loving Allah.
#Akhlaq #Love #Allah #Concepts #Beliefs #Salvation