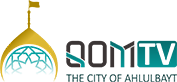 Is the idea that "the love for the Ahl al-Bayt (A) is sufficient enough" an old one or is it a relatively new idea?
And is it sufficient for a Shia to merely say that they love the Ahl al-Bayt (A)?
Is there a familial relationship between Allah and mankind?
Finally, what is a characteristic of Wilayat?
The late Ayatollah Misbah-Yazdi (R) provides us with a short, but profound lesson on the basics of loving Allah.
#Akhlaq #Love #Allah #Concepts #Beliefs #Salvation