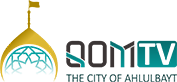 What is one of the attributes of the Siddiqeen (the truthful), keeping in mind that being from among the Siddiqeen is one of the attributes of divinely appointed Prophets of Allah?
What are the signs of those whom love Allah and Allah loves them as well?
And is Allah aware of the troubles and difficulties we face on a daily basis?
The late Ayatollah Misbah-Yazdi (R) provides us with a short, but profound lesson on the basics of loving Allah.
#Akhlaq #Love #Allah #Concepts #Beliefs #Salvation