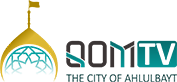 In the words of Imam Ali (A), what should one do if they want to know their status in front of Allah?
What is a practical test to find out how much we truly love Allah?
And what is a way in which we can increase our love for Allah?
What does Imam Sadiq (A) say about the heart of a believer?
Finally, what is the condition of one who truly has the love of Allah in their heart?
The late Ayatollah Misbah-Yazdi (R) provides us with a short, but profound lesson on the basics of loving Allah.
#Akhlaq #Love #Allah #Concepts #Beliefs #Salvation