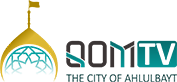 If we claim to love Allah or the Awliya of Allah; how often do we miss them or how often do we think of them?
If we knew that Allah loves for us to do something; would we do it?
Finally, what is the greatest of prizes?
The late Ayatollah Misbah-Yazdi (R) provides us with a short, but profound lesson on the basics of loving Allah.
#Akhlaq #Love #Allah #Concepts #Beliefs #Salvation