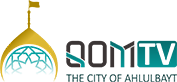 What does love require one to do?
Who is the focal point when people love one another for the sake of Allah?
And what happens when one loves something, but not for the sake of Allah?
Finally, what is a verse of the holy Qur'an and a tradition from Imam Ali ibne Abi Talib (A) regarding this matter?
The late Ayatollah Misbah-Yazdi (R) provides us with a short, but profound lesson on the basics of loving Allah.
#Akhlaq #Love #Allah #Concepts #Beliefs #Salvation