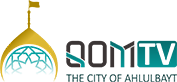 According to the divinely appointed 6th Infallible Imam, Imam Ja'far al-Sadiq (A), where can one find the love of Allah?
And what is one of the prerequisites for one to have the love of Allah?
Finally, what effect does the hating the enemies of Allah have on our love for Allah?
The late Ayatollah Misbah-Yazdi (R) provides us with a short, but profound lesson on the basics of loving Allah.
#Akhlaq #Love #Allah #Concepts #Beliefs #Salvation