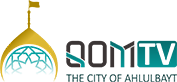 We've talked about the love for Allah, and the love for those who Allah loves, but what about hating that which Allah hates?
And what does it mean to hate the sinner?
What kind of a sinner is that must be hated and opposed?
And what are the qualities of the people of sin?
Finally, what is a tradition from his eminence, Prophet Jesus (A) regarding this subject of hating that which Allah hates?
The late Ayatollah Misbah-Yazdi (R) provides us with a short, but profound lesson on the basics of loving Allah.
#Akhlaq #Love #Allah #Concepts #Beliefs #Salvation