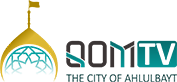 There is a common theme among some traditions; what is that common theme?
And what does it mean that one will be raised with the one they love?
Furthermore, what is created via the love between two things?
And what did the holy Prophet Muhammad (S) say when a Bedouin Arab asked him (S) about when the Day of Judgement will occur?
Finally, what was it that made the Muslims of that time so incredibly happy?
The late Ayatollah Misbah-Yazdi (R) provides us with a short, but profound lesson on the basics of loving Allah.
#Akhlaq #Love #Allah #Concepts #Beliefs #Salvation