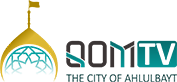 What does it mean to be composed?
And in what condition must one be especially wary of being composed?
What happens to a person when they become angry?
And finally, what must one be careful of when they are in an environment that can lead them to become carried away?
Ayatollah Sayyid Ali Khamenei narrates and explains a tradition narrated from the Messenger of Allah (S), the holy Prophet Muhammad (S), where his eminence (S) speaks about, "Who Is The Most Composed of People?".