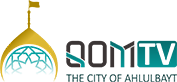 Can one instantly develop the love of Allah in one's heart?
Where can one discover the obstacles that prevent the love for Allah to develop in one's heart?
Who are the people that Allah has blessed and openly acknowledged their greatness in the holy Qur'an?
Finally, what does the holy Qur'an mean when it speaks about the Kuffar?
The late Ayatollah Misbah-Yazdi (R) provides us with a short, but profound lesson on the basics of loving Allah.
#Akhlaq #Love #Allah #Concepts #Beliefs #Salvation