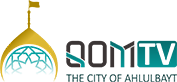 What is the meaning of moderation?
And to what extent must one avoid extravagance?
Can one simply throw away the few sips of water that are left at the bottom of our glass?
Does moderation or being on an extreme limited to merely financial and economical issues in one's livelihood?
And finally, how can one determine whether they are on an extreme or in moderation?
Ayatollah Sayyid Ali Khamenei narrates and explains a tradition narrated from the 6th divinely appointed Imam, Imam Ja'far ibn Muhammad al-Sadiq (A), where his eminence (A) speaks about "The Delicate Balance of Moderation".