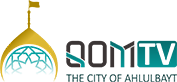 Ayatollah Sayyid Ali Khamenei narrates and explains a tradition narrated from the 6th divinely appointed Imam, Imam Ja'far al-Sadiq (A), where his eminence speaks about a world of depth in the words of Allah in just one short verse of the Qur'an.
What is that verse of the holy Qur'an?
What are just a few of the great many things we learn from this holy verse?
And what happens when one truly believes in this holy verse of the Qur'an?
Finally, can it be possible to be surrounded by the flames of the enemy, and still remain unharmed?
Ayatollah Sayyid Ali Khamenei expounds upon the words of the holy Qur'an.
It's time to truly believe that which Allah - the Exalted - says in the holy Qur'an.