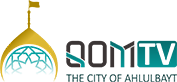 What happens when a servant of Allah start to like, love, and cherish that which Allah loves?
And what will be the result when one truly believes that Allah will protect them?
Finally, how does Allah respond when you decide to take one step towards Him?
The late Ayatollah Misbah-Yazdi (R) provides us with a short, but profound lesson on the basics of loving Allah.
#Akhlaq #Love #Allah #Concepts #Beliefs #Salvation