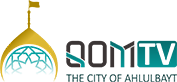 What kind of people does Allah Himself take their soul at the time of their death?
How can one have the 'doors of the skies' open up for them?
And for whom does Allah command Paradise to beautify itself for?
Finally, what are some of the intricacies of how "There Will Be No Veil Between Your Soul and Allah"?
The late Ayatollah Misbah-Yazdi (R) provides us with a short, but profound lesson on the basics of loving Allah.
#Islam #QomTv #Misbah_Yazdi #Akhlaq #Love #Allah #Concepts #Beliefs #Salvation #Certainty #Spirituality #Shia