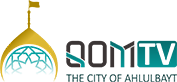 How is it possible for one to have a love for others which equates to the love for Allah?
And who are those 'others' that when we love them, we are actually loving Allah?
Is this love for 'others' in conflict with the love for Allah?
And finally, what are some of the intricacies of "The Love for Others Which Equates to the Love for Allah?
The late Ayatollah Misbah-Yazdi (R) provides us with a short, but profound lesson on the basics of loving Allah.
#Islam #QomTv #Misbah_Yazdi #Akhlaq #Love #Allah #Concepts #Beliefs #Salvation #Certainty #Spirituality #Shia