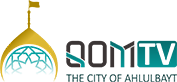 What is the meaning of Islamic Tabligh, i.e. Islamic propagation?
What are the Qur'anic verses that are related to the concept of Islamic propagation?
Finally, what is the difference between western propaganda and Islamic Tabligh?
Ayatollah Sayyid Ali Khamenei provides us with a short interpretation of the following verse of the Holy Quran.
Chapter 33 (al-Ahzab), Verse 39:
"Those who convey the messages of Allah and fear Him and do not fear anyone, but Allah; and sufficient is Allah as a Reckoner."
#ShortTafsir #Interpretation #Quran #Concepts #Beliefs