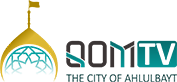 What happens when a person or a nation is moving and progressing towards divine goals, goals set by Islam?
What is an example of plainly seeing a verse of the holy Qur'an and actually witnessing and experiencing a verse of the holy Qur'an?
Finally, where does the Islamic Republic fit in all this?
Ayatollah Sayyid Ali Khamenei provides us with a short interpretation of the following verse of the Holy Quran.
Chapter 63 (al-Talaq), Verse 3:
"And He (Allah) will provide for him from where he does not expect. And whoever relies upon Allah – then He is sufficient for him. Surely, Allah will accomplish His purpose. Indeed, Allah has already set for everything a [decreed] measure."
#ShortTafsir #Interpretation #Quran #Concepts #Beliefs