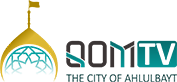 The holy Qur'an tells us in Chapter 47, verse 7 "O' you who believe, if you help [the cause of] Allah,
He will help you and make firm your feet."
So what happens when Allah is on your side and Allah proclaims that He will help you?
Does the size of your army matter when compared to the huge force of the enemy, if Allah is with you?
What is the condition for Allah to be on your side?
Ayatollah Sayyid Ali Khamenei provides us with a short interpretation of the following verse of the Holy Quran.
Chapter 20 (Ta-Ha), Verse 45-46:
"They (Moses and Aaron) said 'O Lord, indeed we fear that he (Pharaoh) will hasten [punishment] against us or he will transgress [all limits]' Allah said 'Do not fear. Indeed, I am with you both; I hear and I see [everything].'"
#ShortTafsir #Interpretation #Quran #Concepts #Beliefs