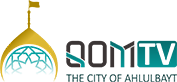 How should a believer act when they are faced with the attacks of the enemy? Should we run for our lives as fast as we can? Or should we hide and cower out of fear of the enemy's attacks?
Did the believers in the age of the holy Prophet Muhammad (S) expect the enemies of Islam to be satisfied with the call of Islam, and likewise did the Islamic Revolution really expect the materialistic global powers to sit quickly and watch the show?
Ayatollah Sayyid Ali Khamenei provides us with a short interpretation of the following verse of the Holy Quran.
Chapter 33 (al-Ahzab), Verse 22:
"And when the Mo'mineen (the believers) saw the Confederates they said this is what Allah and His Messenger had promised us, and Allah and His Messenger spoke the truth; and it only added to their faith and their submission [to Allah]."
#ShortTafsir #Interpretation #Quran #Concepts #Beliefs